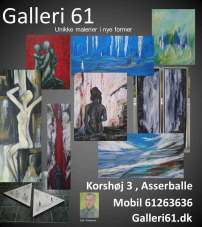 Art is what you see……The inspiration for the pictures are coming from the nature, landscapes and the daily life impressions. Motiv and colorchoice are important and a painting should be an experience that creates expression, life and harmony.
On this website you will find a selection of my own paintings.
The Gallery is situated on the island of Als, in Sønderborg. Rønhaveplads.
Address: Rønhavegade 8
Please call beforehand. Phone: +45 6126 3636
I am available fore courses and private lessons.
The Gallery has access to more paintings and sculptures,
look at www.kunst-fredensborg.dk.